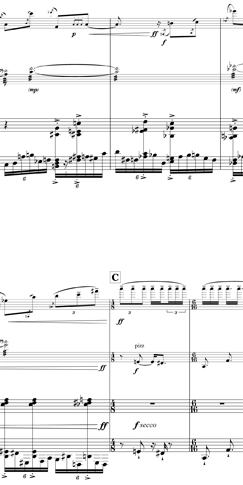 2012
Ariadne's Thread is inspired by the presentation of journeys in literature and legend. Joseph Campbell's 'monomyth' pattern is one of a number of formulations that abstracts the genre of the mythical journey to leave a cyclical structure. Essentially, the hero embarks on a journey, arrives at a moment of dénouement or catharsis, and then makes the same journey backwards, having been changed by the experience.
The journey/return structure informs the structure of this piece – in it, the clarinet and cello both follow fairly strict palindromic structures. The clarinet makes its journey outwards and reaches a climax 2/5ths the way through the piece, preceding to return backwards through the same pitches and rhythms but at 2/3rds the speed. Similarly, the cello makes its own journey outwards, reaching a climax at 3/5ths through the piece, and returns in retrograde but at 1.5 times the speed. Thus both instruments employ weighted symmetrical structures, returning after a transformation.
The piano is more free, highlighting the symmetrical structures in some places and undermining them in others. Throughout the piece, all the musicians play material that highlights the reversal that happens on the return journey – ascending lines, crescendos and accelerations becoming descending lines, diminuendos and decelerations on the way back.
Instrumentation: clarinet, cello & piano
Duration: c. 5″
Premiere: 23rd May 2012 by members of Trio Magritte and Paolo Beltramini, Centro Culturale San Fedele, Milan, Italy.